Introduction
Carpet Pro Cleaners is a licensed, insured, bonded and locally owned specialty cleaning company. CPC deals in commercial and residential carpet, tile and grout, area rug and upholstery cleaning. Formed as an eco-innovation company in 2002, Carpet Pro Cleaners works tirelessly to grow and develop a community based, sustainable business without compromising the integrity, thoroughness and quality of the services we perform. In order to meet the needs of our customers while providing a seamless, hassle free service, nearly all of the products used are biodegradable, plant based cleaning products that are quickly and thankfully becoming the industry's standard.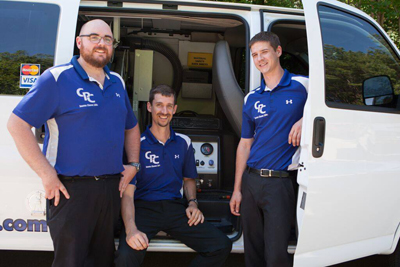 Carpet Pro Cleaners is proud to take part in maintaining a cleaner, smarter and safer environment for you, your children and your pets. We are also working hard for local businesses to become Raleigh-Durham's most trusted and reputable carpet care service. Our process and systems remove pollen, dust mites, allergens, bacteria and even detergent residue left behind by other, previous carpet cleaning companies.
We pride ourselves on reasonable, "no hassle" pricing, reliable, on time service and honest hard work. There are no additional charges or varying "cleaning packages". We approach every job and treat all carpet and upholstery with one primary focus: to restore the carpet/fabric/tile to the best possible condition. There are no additional charges for spot removal, deodorizing or sanitizing. Thank you in advance for supporting local business and economy, we look forward to serving you!
Our Mission:
We are committed to providing local homes and businesses with a cleaner, healthier option for cleaning and a superior level of customer service. Built almost entirely from organic referrals, we place the utmost importance on superior service, while optimizing the latest in cleaning products and technology, in order to provide valued customers with an unbeatable product.
Our Staff:
Everything begins and ends with our staff. We will always be indebted to those we employ and their families for believing in Carpet Pro Cleaners and even through tough times, they've put forth an amazing amount of effort and shown repeated dedication. As would happen in any such environment, we ourselves have become a family of our own. For all their hard work and dedication to helping provide a superior level of customer service and countless hours spent perfecting our craft, we thank you…