Purchasing new carpet or furniture is not an easy decision, and with Carpet Pro Cleaners top of the line cleaning and fabric protection methods, we will keep your investment looking like new. While most new furniture comes pre-treated with a protective seal, the treatment wears off over time and leaves your upholstered surfaces vulnerable.
Why Protect?
Upholstery gets as much wear and tear as carpeting, if not more. Any additional layers of protection that can be added during the life of your furniture is a wise decision. Our environmentally friendly upholstery protector will preserve the color of your fabrics, and will even give you longer to clean up a spill, before it becomes a bothersome stain.
How CPC can help
At Carpet Pro Cleaners, we're committed to using innovative products that uphold our mission towards environmental responsibility. In keeping with this goal, we began using products produced from companies which voluntary phased out of Perfluorooctanyl Chemical (PFOS) compounds from all formulas. Since then, we've begun using a new generation of protective treatments for commercial and home use.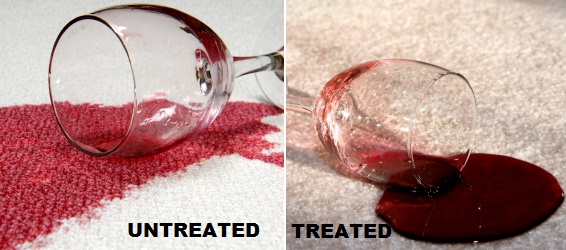 The reformulated products not only have excellent protection performance as expected, but also have enhanced environmental, health and safety benefits that pass regulatory reviews of the U.S. EPA and other environmental agencies around the world. So we're proud a sustainable alternative to other protective treatments currently available. In addition we are currently using other plant derived stain protectants for a more natural approach to carpet care.
The products we use continue to keep carpets, upholstery and other surfaces looking better longer, so you can enjoy them for years to come. The planet also benefits when our things last longer. We use fewer raw materials because we're making fewer new products, using less energy, and generating less waste. You're happy, and the planet is too.
Can I use these products on oriental rugs?
We do not recommend these products for use on oriental rugs. We have found the variability between manufacturers and the occasional use of food dyes can produce unusual and unpredictable results
If my carpet already has a mill-applied protection, do I need to apply aerosol products?
Yes, the product should be applied after each cleaning of your carpet. Also, in high traffic areas, or where spills are most likely to occur, applying this product boosts the protection of the mill treatment.
How often should I reapply?
With wear from dirt and traffic, the carpet's protection wears away with time. The more traffic and/or dirt, the faster it wears. In addition, each time your carpet is cleaned with a deep extraction machine, the protection is diminished considerably. We recommend periodic cleaning at least once a year with a deep extraction machine and reapplying after each instance.
What items can I use carpet protecting products on?
You can use it on rugs, residential or commercial carpet, and automobile carpet and matting. Always check for colorfastness first by testing in an inconspicuous area.