Listen to what they're saying about our Morrisville NC Carpet Cleaning Services!
"They replied to my voicemail quickly and set up a reasonable time to clean the carpets. They did the job smoothly and professionally. My carpets were well cleaned. Not every stain was removed fully but I think they probably did the best job possible. Would use them again."
Abhay, Morrisville NC
---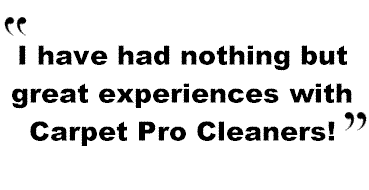 "I have had nothing but great experiences with Carpet Pro Cleaners. I have used them for a few years now to clean my furniture as well as my carpet and I am always extremely satisfied. Their quality of service, customer service and overall integrity as a company are rare in today's market and truly appreciated! I highly recommend this company to anyone looking for great quality and service!"
Kameilya, Morrisville NC
---
"What a company. They really back up what they say. Remarkable team I dealt with."
Charlie, Morrisville NC
---
"I have never been so satisfied with my carpet being cleaned!! This is the best job that I have EVER had!! I have a small dog and was worried that some of the spots would not come out of the carpet but Stacey and Wes sure made sure they came out!! I was pleasantly surprised! They were extremely professional and made me feel like I was the most important client that they have had all day! I cannot WAIT to recommend them to my neighbors and friends! Now I have extremely clean carpet, a pleasant deodorant smell in my home because of the all natural products they used, and a pleasant experience thanks to Carpet Pro Cleaners!!!"
CC, Morrisville NC
---
"Carpet Pro Cleaners was great from start to finish. They answered the phone when I called, worked with me on scheduling (I work during the day), offered a very reasonable price, and showed up on time looking and behaving both professionally and friendly. This was my second time using them and both experiences were nothing short of perfect. I have had two different technicians come out and both were extremely knowledgeable and friendly. Not only did they do a great job on my carpets, but I felt very comfortable with them in my home. These guys are my go-to carpet cleaners and I'd recommend that everyone give them a chance!"
Teri, Morrisville NC
Contact Carpet Pro Cleaners of Morrisville, NC at at 919-376-6055 for all your carpet, upholstery, tile/grout cleaning and carpet repair needs. You can also book our services online 24×7.