Listen to what they're saying about our Apex NC Carpet Cleaning Services!
"Wesley did a fantastic job on our carpets. We have a dog and 2 cats that track dirt into and around the house. The attention to detail and Rotovac equipment they use is top notch. Prices are competitive and quality of service is outstanding. Have already recommended this service to our neighbors."
Brad, Apex NC
---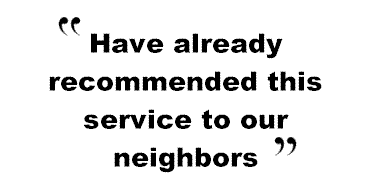 "Prior to moving in, my house was a rental for ten years so I planned on replacing the carpet when I could afford it. Fortunately, Wesley and his team brought in the right equipment and meticulously cleaned the carpet. Behold, it looks new! My house now feels like a home; my home. Carpet Pro Cleaners is absolutely a worthwhile investment."
Carrie, Apex NC
---
"Just had my Berber carpet cleaned. It had not been cleaned since it was installed several years ago and you could see the high traffic usage paths. After cleaning the carpet looked close to brand new and I highly recommend Carpet Pro Cleaners. My tech, Wesley, was on time, knowledgeable and very thorough. I definitely will not hesitate to use them again. Other companies would only commit to a morning or afternoon appointment but Carpet Pro Cleaners was able to schedule an exact hour and that helped make my decision, along with the $79 one room charge."
George, Apex NC
---
"Stacey did a great job on cleaning the carpets in our home, which we thought were hopeless. He was on-time, professional, super friendly and took his time to do a thorough job. We could not be happier with the end result, and for such a reasonable price!!"
Katy, Apex NC
---
"Wesley was here on time, explained a little about how he was going to clean and got to work. Admittedly, I have neglected my carpet but I am thoroughly impressed with the results. I appreciate Wesley taking the time to answer my questions because it probably sounded like I had a lot. I happy to review Carpet Pro Cleaners and will be using them again in the future."
Meghan, Apex NC
Contact Carpet Pro Cleaners of Apex, NC at at 919-376-6055 for all your carpet, upholstery, tile/grout cleaning and carpet repair needs. You can also book our services online 24×7.