Tile & Grout Cleaning by hand is very hard, tedious work. The process can be messy, the chemicals harsh and although you may be able to get that tile and grout clean, it's often not worth the investment of time and energy. Grout is a porous material that allows dirt, grime, spills, and soap residue to stain and discolor the surface. It can be extremely difficult, using in home cleaners, to achieve a satisfactory level of tile & grout cleaning using home and over the counter cleaners.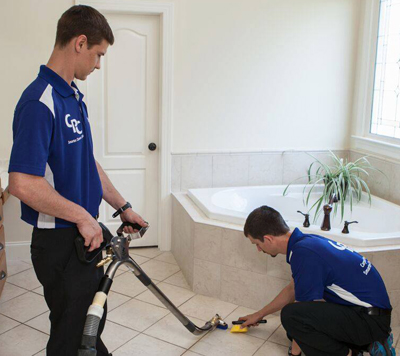 Allow Carpet Pro Cleaners to be your complete solution to tile and grout cleaning. Our staff of trained experts utilizes state of the art steam cleaning machines, modified with "lab grade" water filtration systems and the safest cleaning products available today. With water heated to a temperature unachievable within your home and cleaners not available directly to consumers, our team attacks soiled tile and grout and works hard to restore its original beauty.
With state of the art Gekko tile cleaning equipment in collusion with our modified Butler Truck Mounted systems provide results that can't be achieved with a toothbrush and a bucket. After a light pre treatment, we hand scrub every inch of tile and grout. Following the agitation, we steam and rinse all of the tile, extracting the waste water with powerful vacuums, to our van to be transported to the waste facility. In addition to cleaning, Carpet Pro Cleaners offers a post cleaning sealant, for an additional fee, to lock in shine and provide a protective layer to your floor.
We offer tile & grout cleaning services in Raleigh, Durham, Cary, Apex, Holly Springs, Morrisville, Chapel Hill, RTP and more. So stop getting on your knees. Instead call our five-star rated tile & grout cleaning professionals to do a perfect job for you!