Listen to what they're saying about our Holly Springs Carpet Cleaning Services!
"Four years, two dogs, a cat and a clumsy red wine drinker had taken its toll on my high pile white carpet. Everyday I would come home, look at the carpets, and contemplate dropping the hundreds of dollars it would take to replace them….That is until a friend of mine told me about Carpet Pro Cleaners. I decided to give them a call. They arrived promptly and ready to work. Wesley and his team cleaned the carpets in under an hour. And let me tell you, the results were amazing. The carpets look practically brand new. Carpet Pro Cleaners is definitely the company to do business with!"
NM, Holly Springs
---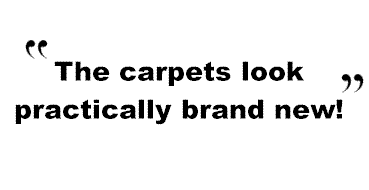 "Great job by these guys and they will be called on again when we're ready for carpet cleaning. Neat, fast and professional at a fair price. Most importantly, the carpets look and smell great!"
Laura, Holly Springs
---
"Great service, tech was friendly personable professional and really really efficient. I would use them again without a doubt. a must try as a cleaner carpets look awesome. thanks!"
Michelle, Holly Springs
---
"Prompt, courteous, excellent service! Will call on them again and will recommend them to friends & family!"
Gloria, Holly Springs
---
"ABSOLUTELY TOP-NOTCH, EXCELLENT SERVICE, AND CARPETS COULD NOT BE CLEANER! This was my first time using Carpet Pro Cleaners. We had been using another local company but they went out of business. We called 3 places and Carpet Pro Cleaners was in the middle for price. Wesley spent a lot of time on the phone with me and politely answered all of my questions. He explained to me why there technology is so much better than most other carpet cleaning services. Wesley maneuvered his schedule in order to accommodate me for my cleaning service. Stacy, the carpet cleaning technician called before hand too tell me he was running 10 minutes late. Wow, I was taken away. Most companies would just show up late with out calling. Stacy, was polite, professional, thorough, personable, and gave some great tips for pet hair removal around baseboards. I can honestly say, the carpets are way cleaner from Carpet Pro than they ever were with any other carpet cleaning services that we have used. We paid almost double the price with Stanley Steamer on one occasion, and the carpets were only half as clean as they are with Carpet Pro. Unlike Stanley Steamer, Carpet Pro comes in and does a top notch service, for the price they give you over the phone, and do not come in and try to up sell you all sorts of add-ons. Great work Wesley and Stacy! You have earned my loyal business."
Robert, Holly Springs
Contact Carpet Pro Cleaners of Holly Springs, NC at at 919-376-6055 for all your carpet, upholstery, tile/grout cleaning and carpet repair needs. You can also book our services online 24×7.