Listen to what they're saying about our Raleigh NC Carpet Cleaning Services!
---
Find more of our local reviews on Google and Yelp.
Find out more about our carpet cleaning process: 
---
"This is the second time I've used Carpet Pro Cleaners, and they are AWESOME! I have a very hairy golden retriever and a very stain-prone husband…. so needless to say, my carpets get pretty gross, pretty fast! And both times Carpet Pro Cleaners has been here, I've been shocked by the outcome. Our carpets look FANTASTIC! They have managed to get out some "impossible" stains… and were very honest about carpet issues that were irreparable. Both times I've used their services, they have arrived on-time, been well dressed, professional, and very considerate! They have moved furniture and household items that I should have moved before they arrived, and were accommodating to my overly friendly golden retriever. I will definitely recommend to friends! (And I LOVE that they use green products!)"
Krysti, Raleigh NC
---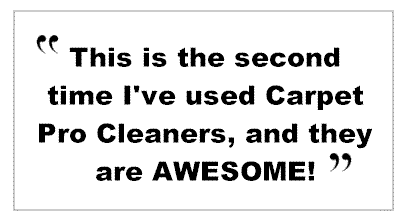 "When we renovated our newly purchased house in 1999, we installed light cream berber carpet to match the walls in our major living area and were told that the carpet should last at least seven years. Over time the carpet wore well except for dark grey tracks where we walked through the house. We hired several other carpet cleaners over the years, even one for dry cleaning instead of steam cleaning, with very mixed results. The bottom line: we were never satisfied with their efforts! And we are really attached to keeping the light floor! This year we hired Carpet Pro Cleaners and held our breath. Wesley arrived at the scheduled time, informed us of what we should do to facilitate his efforts, treated the track marks in our white carpet, and spend 60+ minutes steam cleaning all the major areas of our home. 48 hours after his departure, our white carpet was light again! There were two areas that still showed signs of wear and Wesley returned to spot check his efforts. Today our carpet is renewed! No need to replace it! No need to be ashamed of its appearance! Thank you Wesley and Carpet Pro Cleaners! Please feel free to use us as a reference!"
J.L., Raleigh NC
---
"This morning I walked in to a brand new looking carpet for the second time this year. We have had some spotty service (no pun intended) with other vendors before using this crew as part of my regular maintenance. Wesley and company have made a night and day difference in our restaurant. They don't mind the after hours work, they leave the place looking tidy and our current carpet looking showroom fresh after being installed over a year ago. Other cleaners use chemicals that have left our establishment, a sushi bar, smelling like cheap cleaner or air freshener. I would not have known Wesley and his crew were here if it wasn't for the brand new looking carpets. Smelling clean is as important as looking clean in our particular line of work, and they did not disappoint. We trust these guys with a multi-million dollar building, and we will never use another vendor after seeing how thorough the cleaning was compared to competitors. Highly recommended."
Mura Restaurant, North Hills Raleigh NC
Contact Carpet Pro Cleaners of Raleigh, NC at at 919-376-6055 for all your carpet, upholstery, tile/grout cleaning and carpet repair needs. You can also book our services online 24×7.