North Carolina
Historians believe four main nations of Indians once lived in North Carolina. The Cherokee lived in the mountains, the Sioux lived in the piedmont, and the Algonquin lived on the coast. The fourth nation, the Tuscarora, moved throughout the state as migrant hunter gatherers.

North Carolina Indians at the NC Museum of History
---
From Nomads to Villagers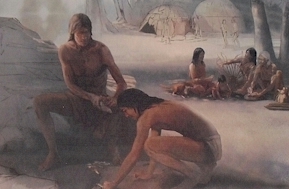 Between 1,000 and 3,000 years ago, prehistoric Native Americans began making a transition from their nomadic lifestyles as hunter/gathers, to settled lifestyles in villages. (This photo is a mural painting at the NC Museum of History.)
---
Sioux Indians and the Eno
Of the Sioux Indians that lived in the piedmont, archaeologist tell us that five distinct tribes of the Sioux appear to have lived along the banks of the Eno. The Tuscarora, mentioned earlier, came and went as transient hunters in the region. The Shocco and Adshusheer first settled in villages and farmed the lands along the river. They were joined in the late seven­teenth century by the Occaneechi, also Sioux, who built their town upon the Eno near the present day town of Hillsborough, NC. The Eno Tribe, namesakes of the river as well as the Eno River state park, are believed to have established their village somewhere in the northern part of present day Durham County.
---
Eno Tribe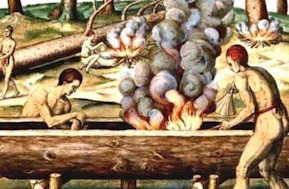 The first known reference to the Eno tribe is described as being made by Virginia governor Francis Yardley in 1654. (See Durham County: A History of Durham County, North Carolina.) Yardley described the Eno tribe as a "great nation" who had resisted most valiantly the advances of the Spanish.
---
Along the Banks of the Eno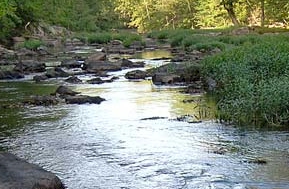 Archaeologists tell us that members of the Eno tribe likely hunted animals such as deer and wild turkey along the banks of the Eno, using their bones for making tools and passing the skills down from one generation to another..
---
It is believed that the Eno tribe moved into South Carolina in the early 1700's due to pressure from European settlers, where they most likely merged with the Catawba Indian Tribe..
Early European Settlers and Mills on the Eno Click here to Read..